4.3'' Home TFT Wired Video Intercom Doorbell System RFID Camera with 3 Monitor+Exit Button+ Electric Lock + Door Access System
Regular price
$401.73
Sale price
$299.95
Unit price
per
Sale
Sold out
Very important: if you choose to use  standard delivery, we will send your order in 2 to 3 different packages. If you choose DHL, please tell us what you want us to declare on the invoice. Our price does not include any duties or taxes. It would be even better if you could contact your customs before ordering. Thank you very much.
4.3 "door video intercom system 2 / 3 / 4 Apartments RFID camera + 4.3 "monitor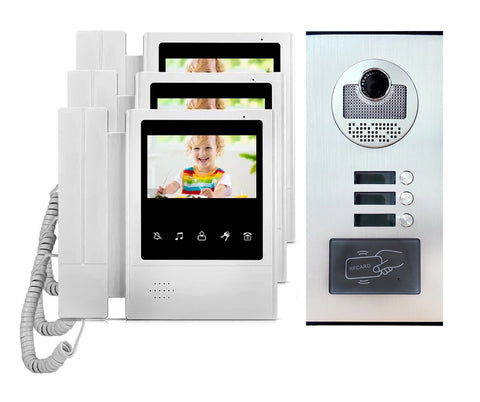 With 4 system cables. Use a 4-core cable to connect the camera to the monitor.The maximum distance is 100 meters. Different distances, using different diameters of cable, please check the following to select the connection cable( We will send you a 5 meter long cable for testing. For longer cables, you must purchase them at the time of installation.)
Multiple Ringtones - switch freely
25 string ringtones can be switched freely, elegant and clear. Ring tone and volume can be adjusted to meet your original time needs. Don't worry about not hearing or not hearing too loud.
​
Support two-way walkie talkie and indoor monitoring
When a visitor rings, the monitor will turn on and display an external image. Press the answer button, then you can speak outside and press the answer button again to turn it off. If you don't press this button after the end of the call, or no one answers the call, the monitor will automatically turn off after 60 seconds.
Built in 4 infrared LED external camera. With this feature, you can see outside during the day and at night. Make your home safer.
Perfect for apartment / family

As shown below, there are three call buttons on the external camera, and each call button can only be connected and called with one internal monitor screen.
We also have cameras with 3 / 4 / 6 / 8 / 10 / 12 buttons.
2-6 wrench size: 265mm * 128mm * 48mm
Installation size: 245mm * 117mm * 35mm
Size 8-12 key: 331mm * 128mm * 48mm
Installation dimension: 310mm * 117mm * 35mm
This video intercom can be connected to the electric lock. You can open the door with a built-in monitor and an external camera. Very convenient!
(Note: the lock is not included in the package and needs to be purchased additionally)
You can open the door from the inside by pressing the unlock button on the display.
The camera outside the car has a built-in RFID card reader. With this function, you can use the RFID key card to open the door from outside the car. The product supports 500 user cards.
Buy Butten

Video Doorbell                   Video intercom               Anjielo Smart Home

Video Intercom System     Tuya Smart Life             Video Doorphone

Anjielo Smart Security        Tuya Video intercom    Anjielo Smart Life

Amazon-USA         Amazon-UK         Amazon-DE         Amazon-JP

Shopee-My         Shopee - Ph           Shopee - Br      Shopee - Vn

Shopee-Mx         Shopee - Co           Shopee - Cl       Shopee -TH

Shopee-SG         Shopee-PH2         Shopee-PH3         Shopee-MX2

LAZADA-My         LAZADA - PH           LAZADA - ID      LAZADA - SG

LAZADA-TH         LAZADA - VN           LAZADA - Cl       LAZADA -CO  

ANJIELOSMART-1Store        ANJIELOSMART-2Store     ANJIELOSMART-3Store

ANJIELOSMART-4Store        ANJIELOSMART-5Store    ANJIELOSMART-6Store
Shipping & Returns

MONEY BACK GUARANTEE. We promise your money back if the item you received is not as described, or if your item is not delivered within the Buyer Protection period. You can get a refund 15 days after the claim process finishes. This guarantee is in addition to and does not limit your statutory rights as a consumer, as granted by all mandatory laws and regulations applicable in your country of residence.

1. Contact Seller 

Please contact within 15 days since you receive your products. Send an email to sales@anjielo.com and discuss the issue with us to sort out solutions.

2. Get Money Back

Most sellers will return your money in 15 days. Besides, you can contact Paypal from the order detail page to escalate your dispute.

3. Free Return

Sellers that offer 'Free Return' service will have 'Free Return' icon on their item details page. With 'Free Return' service, you have 15 days (on top of the on-time delivery date) to decide if you want to keep or return the item for any reason, as long as they are unused, unwashed and in their original condition – complete with the original packaging, tags, etc. It's easy and fast:

Easy

• Return items locally and easily: 1) Get the return code or label, 2) wait for door-to-door pickup service or take your package to the designated service point and, 3) lastly, wait for the local warehouse to confirm receipt of your returned package.• Remember to select 'Return Goods" while opening the dispute.

Fast

• Refund will be processed to you once we confirm receipt of your returned parcel which meet the conditions for reimbursement. Items will be processed at a local warehouse, instead of being sent back to the seller's country of origin (eg China).

Service Scope

• Not all countries have Free Return service. At present, supported countries include the mainland territories of the United States, Canada, Australia, United Kingdom, France, Spain, Germany, Russia, South Korea, Saudi Arabia, UAE, Italy, Netherlands, Poland, Brazil and Israel.
• In addition, not all products on Anjielo.com include the Free Return service. The seller can choose whether or not to offer this extra service. Sellers that offer the Free Return service will have a label or icon on their product details page confirming this service is available.

Return Shipment Fee

• Returning packages via a designated local return service point or via a door-to-door pickup service is free.
• Note: You can enjoy one-time free local return for one order. If you initiate multiple return requests under an order, you can only enjoy the free local return service once, and other return requests can still enjoy local return service but you will have to cover the return shipping costs to the designated local return address. Therefore, please consider returning jointly the products to avoid paying that additional shipping cost.

Statutory rights

The seller must comply with other relevant legal requirements (warranty, return, etc.) that may be applicable depending on your location as buyer. For instance, in most EU countries you will generally have a 2-year legal conformity warranty and a 14-day right to return (please note that in case of return, the buyer must bear the cost of returning the products to the seller).
Contact Us

ANJIELO SMART  strives to provide the best services with every contact!

We operate in smart home industry built on trust. This is achieved through professional communication and experienced supports. Here, you can get

Affordable one-stop solutions
24/7 before-sales and after-sales services:86-0760-86657689
Comprehensive technical support whatsapp:+8615913473606
Product Support :YouTube:www.youtube.com/@anjielosmart  TikTok: Search "Anjielo Smart" on TikTok 
Email :  yuyunzhu@anjielo.com; sales@anjielo.com
The website is jointly operated by Zhongshan Anjielo Smart Technology Co.,Ltd and Siki Eagle Sarl
Company name:Zhongshan Anjielo Smart Technology Co., Ltd
Address:  1228Room,3 Building , No. 118 Tanshen North Road, Tanzhou Town, Zhongshan City, GuangDong Province, China
Company name:Siki Eagle Sarl
Company address:1, Esplanade Miriam Makeba, 69100 Villeurbanne, France
Company name:ANJIELO SMART HOME SDN. BHD.
Company address:C1-0507 JALAN INDAH 15 TAMAN BUKIT INDAH 79100 ISKANDAR PUTERI JOHOR MALAYSIA
       
Share