Anjielo smart Electronic Technology Co., Ltd
AnjieloSmart 433Mhz Wireless PIR Sensor Infrared Outdoor Motion Detector with Pet Immune
Regular price
$17.54
$0.00
Unit price
per
Tax included.
Shipping
calculated at checkout.
Free Return 
Return for any reason within 15days
| | |
| --- | --- |
| Brand Name: Anjielo Smart |  Model Number: PSP03-04 |
| Name: Wireless PIR Sensor | Detecting Distance: 12m at 25 degree |
| Transmission distance: 150m (without any block) | Operating Voltage: 3V (2AA alkaline battery) |
| Standby Current: less than 10uA | Alarm Current: less than 11mA |
| Wireless Frequency: 433.92MHz | Wireless Transmission Code: 1527 (protocol);/90 |
| Max Working Area: 12* 12m (23*40 foot) | Alarm Indicator: lasting flashing or three second |
| Working Environment: from -10 degree to 60 degree | Color: W    Quantity: 4 pcs |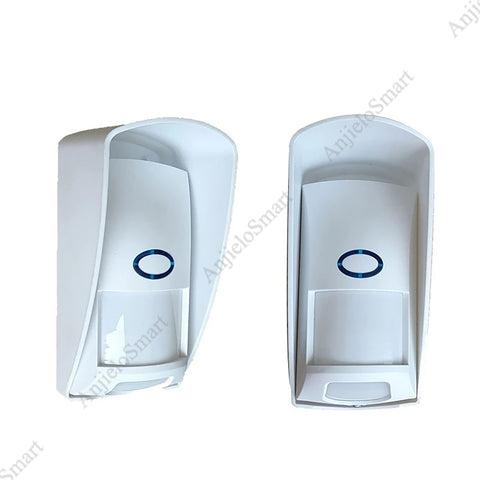 AnJieLo  1pcs 2pcs 4pcs Wireless PIR sensor Infrared Motion Detector 433Mhz pet Immune Waterproof for Home Security Alarm System 

 Berif Introduction
Outdoor PIR Sensor adopts importer super low power consumption digital microprocessor, random dynamic time division and energy accumulation logic processing technology, patented precision columnar Fresnel lens, Using high intelligent volume recognition + outdoor filter + dual infrared + processor technology, adjustable pulse counting. Working with advanced patented software technology, it features super detection performance and judges the real invader truly and can overcome the shortcoming of false alarm, failed alarm and not alarm. 
Features
Adopting import low power consumption microprocessor + artificial intelligence

Dual induction technology

Dual temperature compensation technology that works well in high temperature

Bottom detecting window that can avoid missing alarm for someone or something go inside by scrawling from underside

Adjustable pulse count

Adopting import high quality infrared sensor

Random dynamic time division technology

Finel Optics Lens to avoiding missing alarm and wrong alarm

Built-in 1600 million address code

Anti white light intensity up to 6500lux, can make alarm even under influence from white light, it can be the leader in this industry around the world

Detecting angle: 110C degree

Wall installation with unique plug-in installation designed
 Specification
Fresnel optical lens + Volume identification can prevent mistaken alarm and omitted alarm
Transmission mode: Wireless 433.92mhz (1527) 
The design of wall mounted and unique plug type installation 
Using high intelligent volume recognition + outdoor filter + dual infrared + processor technology;                                                               

Microprocessor with super low power consumption The use of general 2AA batteries for more than 2 years, easy to buy, no need to change the battery;

Dual temperature compensation technologies
Adoption of detection technology of reflective mirror: overcome the shortcoming of traditional detector that does not alarm for crawling in
The technology of adjustable pulse counting
Dual induction technology
Time division technology with random dynamic
Detection distance: 12m@25℃
Pet immunity: 25KG     
Installation height: 2.2-2.7m;
Working temperature: -20℃-50℃
Storage temperature: -20℃-60℃Anti-visible light interference: larger than 6500LUX (indoors)
verall dimension: 120*62*46 (mm); cover:135*35*70m
Dural Induction Technology--Thief will not slip away anymore
Product Show
Installation
Installation Height: 2.2-2.7 meters
Operating Temperature: from -20C degree to 50C degree
Storage Temperature: -20C degree to 60C degree
Anti White light influence: more than 10000lux (indoor)
Appearance dimension: 120*62*46 (mm)
Please open the enclosure of the detector before use to install two AA batteries. The   installation height is about 2.2 meters from the ground. It should be installed at the corner in the room or outside the room as possible to obtain the most ideal detection scope and form a certain angle with the   travel line inside the room at the same time (the detection effect is best if it forms a 90°angle   with the walk direction of people). 
 Installation method: 
Take out the attached base bracket and clamp the bracket into the slot. Then take out two screws for the base and fix it on the wall. Then press the infrared detectors with bracket installed into the round hole in the middle of the bracket with force. Adjust the infrared detector to the best angle. (The method is applicable to engineering installation) 
Attention shall be paid to the following points for installation of infrared detector. 
1. It is not suitable to point towards out of the window when the infrared detector is installed. 
2. There should be no large screen, furniture, large bonsai or other partition that separates the detection scope. 
3. Two infrared detectors  should not be  installed in the same space to avoid the interference  caused by simultaneous triggering. 
4. Avoid facing windows, air conditioners, stoves and place with quick change of temperature to avoid false alarm. 
5. Infrared detector can be installed outside and inside.
Pet- immunity Manual
How to replace batteries
The batteries need to be placed when the host was sent a low battery single, please take the detector cover off and put batteries in by matching correct positions of passive and negative (see below chart)
 Application
 The outdoor PIR Sensor cannot work independently, it is 433Mhz product, can be paired with alarm host of 433Mhz frequency, 1527 code. DIY Security Alarm System is available.
E.g. After connect GSM alarm( 433mhz, 1527code), when PIR sensor trigger, it will send signal to GSM host, then GSM host will alarm and call phone to tell you the situation (mobile phone master).
---