10-inch Tuya Wifi Video Intercom FHD1080P Color Touch Screen Outdoor Doorbell Motion Detection Tuya Smart Remote View Home Security
Regular price
$187.43
Sale price
$139.40
Unit price
per
Sale
Sold out
Product Description:
Support iOS & Android smartphones with Tuya Smart APP.
2-way communication between indoor and outdoor units. Support 2-way communication between monitors.
3MP Camera, wide view angle.
When somebody calls outdoors, your monitor and smartphone will ring at the same time.
A voice message and motion detection supported Alarm Home System, can add 4 security zones alarm (such as smoke sensor, gas sensor, PIR sensor...etc)
WIFI Enabled or Wired Router.

New Era Smart Home, Free Tuya Smart App, Operate and Monitor More Convenience Anytime Any Anywhere



After downloading the Tuya app, you can connect the monitoring device to your smartphone in less than two minutes. The operation is simple and safe.
No matter where you are in your home or even abroad, you can easily answer the doorbell remotely and monitor the outdoor environment.
This trend of future technology, free your hands, and enjoy using a mobile phone to control the whole house of smart home appliances!
Support to insert 32G card for recording, screenshot, and upgrade.
Support Mobile Phone or Tablet To Download Tuya Smart App;3G/4G/5G or Wifi for Multiple Networks
The Multi-dimensional connection can use to realize intelligent intercom on any device. Including app connect with the outdoor unit; Indoor unit connects with the indoor unit; Indoor connect with outdoor units; Indoor connect with outdoor units; Making communication fast and barrier-free.

Mobile phones and tablets only need to connect to 3G/4G/5G or wifi multiple networks to synchronize the indoor unit at any time.


Support Mobile Phone Instead of Surveillance Machine To Unlock
When the visitor presses the doorbell, the mobile phone and the monitor will receive the message synchronously. The host can use the mobile phone to monitor the outdoor environment and unlock the guest. There is a warm voice prompt for the door machine to unlock the door, giving guests a sense of intimacy.
After the host unlocks the monitoring machine, there will be a voice prompt when the door phone is unlocked: "The door is open, please come in !"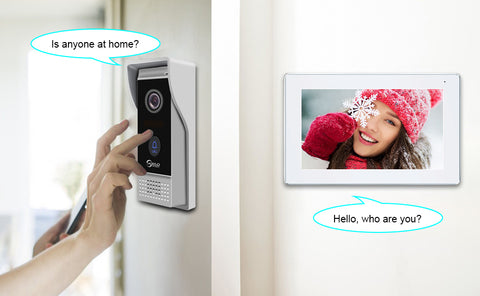 10-inch Full Touch Screen
Built with an advanced system and 10 inches 1080P resolution touch screen, simple and comfortable design interface, easy to operate all settings with your finger.
Indoor Monitor :
Model:86121
Monitor:10" TFT touchscreen
Dimension:160mm*260mm
Memory: Built-in Memory Can Save 86 Pictures, Support External Max.128GB SD Card (Not included)
Intercom Mode:2-way intercom
Leave Message Time:30s/60s/90s optional
Conversation Duration: Max.180s
Ringtone: Customized supported
Power Supply: Supplied by External
Power DC 12V; Standby:3W; Working:5W
Material: Wire Drawing Acrylic Case
Operation Temp:-10°C +60°C
Installation: Surface Mounted
Clock Mode
The monitor is not only an indoor monitor but also a clear electronic clock and elegant artwork.
When the operation is over, it will stand by in clock mode for 1 minute, and then automatically turn off to protect the screen life.
Elegant artwork. The design is a simple and elegant body, The metal plate is exquisite and durable.
Multi-languages OSD Menu
The System Supports 7 Different Languages: English/Russian/ Polish/French/Italian/ Arabic/Ukrainian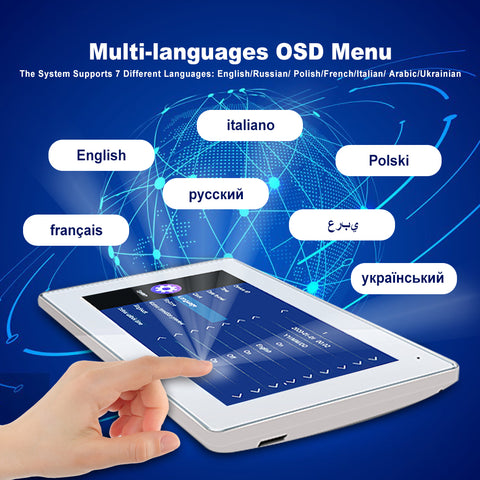 IP65 Waterproof, Adapt To Extreme Temperature Differences, Not Affected By Weather
The product can operate as usual in many harsh environments outdoors, including humidity rain, sleet, snow, and high temperature.
IP65 waterproof: The airtightness is good, and the outdoor unit is equipped with a rubber gasket ring, which can prevent dust, water, and moisture. 
operation temp:-40~50 Can run normally in extreme outdoor temperatures.
110° Degree Super Wide Angle, The Field of Vision Is Wider Than The Old One
The wide-angle lens has a large angle of view, which can obtain a larger viewing range and make the monitoring angle of view wider.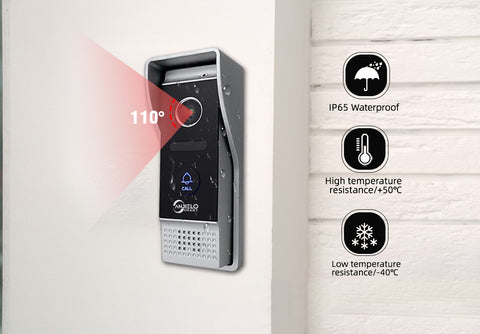 Outdoor Monitor :
Model:84203
Dimension:128mm*40mm
Camera Sensor:1.3MP
View Angle:110°
Night Vision: IR Light, 3pcs IR LEDs
Power Supply: Supplied From Indoor Monitor/ Internal power
Power Consumption:200mA Max.
Electronic Lock: Support
Accessory: Rain cover+angle bracker
Operation Temp:-40°C +50°C
Waterproof: IP65
Installation: Surface Mounted
High-definition Camera, Night Infrared Monitoring
1). Infrared monitoring can clearly see the outdoor environment even at night, monitoring protects your safety.
2).1.3MP high resolution, can monitor every detail more clearly.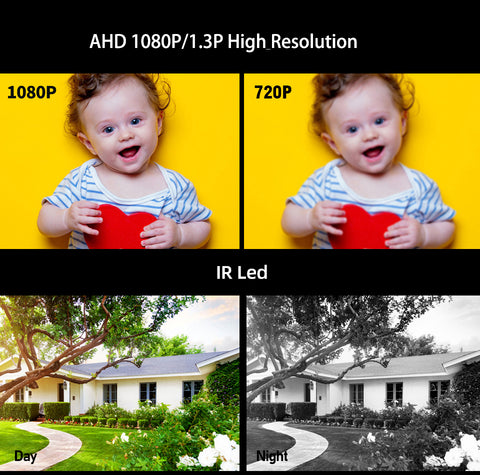 Equipment Details: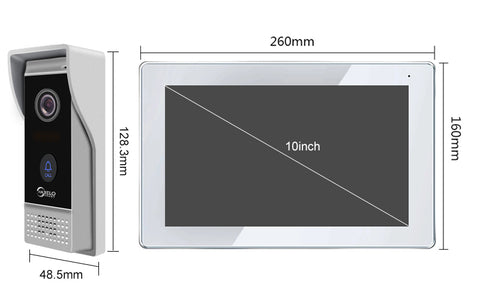 Connect diagram (the connection method is for reference)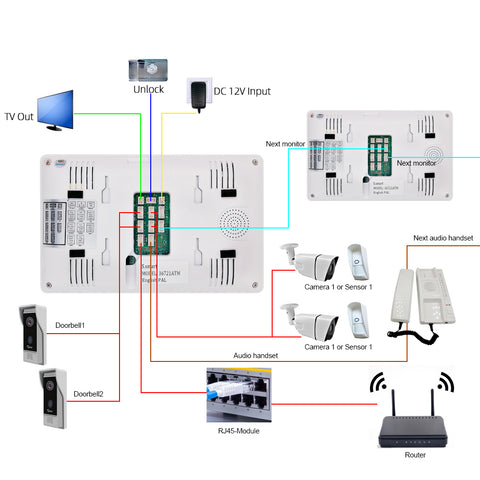 Maximum support connects with 2 outdoor call panels + analog 2 cameras(or PIR detectors) + 6 monitors in one system. PIR sensor and CCTV camera installed to work together can alarm and video recording (Camera with individual power).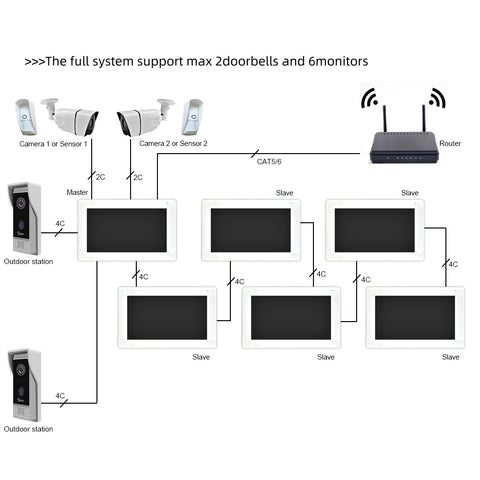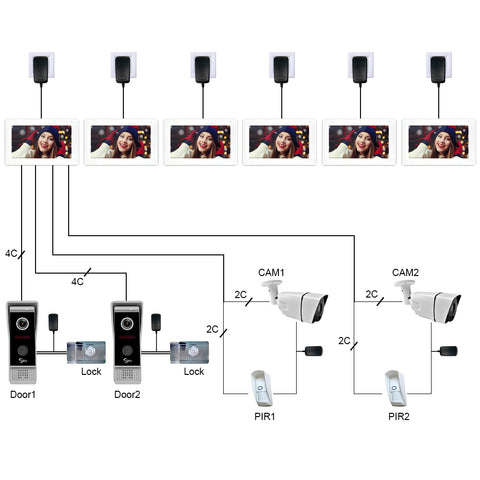 Tips:
There are 4 types of power adapters, We will send the applicable power adapter according to your country, if you have a special order, please contact us for free.
Buy Butten

Video Doorbell                   Video intercom               Anjielo Smart Home

Video Intercom System     Tuya Smart Life             Video Doorphone

Anjielo Smart Security        Tuya Video intercom    Anjielo Smart Life

Amazon-USA         Amazon-UK         Amazon-DE         Amazon-JP

Shopee-My         Shopee - Ph           Shopee - Br      Shopee - Vn

Shopee-Mx         Shopee - Co           Shopee - Cl       Shopee -TH

Shopee-SG         Shopee-PH2         Shopee-PH3         Shopee-MX2

LAZADA-My         LAZADA - PH           LAZADA - ID      LAZADA - SG

LAZADA-TH         LAZADA - VN           LAZADA - Cl       LAZADA -CO  

ANJIELOSMART-1Store        ANJIELOSMART-2Store     ANJIELOSMART-3Store

ANJIELOSMART-4Store        ANJIELOSMART-5Store    ANJIELOSMART-6Store
Shipping & Returns

MONEY BACK GUARANTEE. We promise your money back if the item you received is not as described, or if your item is not delivered within the Buyer Protection period. You can get a refund 15 days after the claim process finishes. This guarantee is in addition to and does not limit your statutory rights as a consumer, as granted by all mandatory laws and regulations applicable in your country of residence.

1. Contact Seller 

Please contact within 15 days since you receive your products. Send an email to sales@anjielo.com and discuss the issue with us to sort out solutions.

2. Get Money Back

Most sellers will return your money in 15 days. Besides, you can contact Paypal from the order detail page to escalate your dispute.

3. Free Return

Sellers that offer 'Free Return' service will have 'Free Return' icon on their item details page. With 'Free Return' service, you have 15 days (on top of the on-time delivery date) to decide if you want to keep or return the item for any reason, as long as they are unused, unwashed and in their original condition – complete with the original packaging, tags, etc. It's easy and fast:

Easy

• Return items locally and easily: 1) Get the return code or label, 2) wait for door-to-door pickup service or take your package to the designated service point and, 3) lastly, wait for the local warehouse to confirm receipt of your returned package.• Remember to select 'Return Goods" while opening the dispute.

Fast

• Refund will be processed to you once we confirm receipt of your returned parcel which meet the conditions for reimbursement. Items will be processed at a local warehouse, instead of being sent back to the seller's country of origin (eg China).

Service Scope

• Not all countries have Free Return service. At present, supported countries include the mainland territories of the United States, Canada, Australia, United Kingdom, France, Spain, Germany, Russia, South Korea, Saudi Arabia, UAE, Italy, Netherlands, Poland, Brazil and Israel.
• In addition, not all products on Anjielo.com include the Free Return service. The seller can choose whether or not to offer this extra service. Sellers that offer the Free Return service will have a label or icon on their product details page confirming this service is available.

Return Shipment Fee

• Returning packages via a designated local return service point or via a door-to-door pickup service is free.
• Note: You can enjoy one-time free local return for one order. If you initiate multiple return requests under an order, you can only enjoy the free local return service once, and other return requests can still enjoy local return service but you will have to cover the return shipping costs to the designated local return address. Therefore, please consider returning jointly the products to avoid paying that additional shipping cost.

Statutory rights

The seller must comply with other relevant legal requirements (warranty, return, etc.) that may be applicable depending on your location as buyer. For instance, in most EU countries you will generally have a 2-year legal conformity warranty and a 14-day right to return (please note that in case of return, the buyer must bear the cost of returning the products to the seller).
Contact Us

ANJIELO SMART  strives to provide the best services with every contact!

We operate in smart home industry built on trust. This is achieved through professional communication and experienced supports. Here, you can get

Affordable one-stop solutions
24/7 before-sales and after-sales services:86-0760-86657689
Comprehensive technical support whatsapp:+8615913473606
Product Support :YouTube:www.youtube.com/@anjielosmart  TikTok: Search "Anjielo Smart" on TikTok 
Email :  yuyunzhu@anjielo.com; Joanne@anjielo.com; sales@anjielo.com
The website is jointly operated by Zhongshan Anjielo Smart Technology Co.,Ltd and Siki Eagle Sarl
Company name:Zhongshan Anjielo Smart Technology Co., Ltd
Address:  1228Room,3 Building , No. 118 Tanshen North Road, Tanzhou Town, Zhongshan City, GuangDong Province, China
Company name:Siki Eagle Sarl
Company address:1, Esplanade Miriam Makeba, 69100 Villeurbanne, France
Company name:ANJIELO SMART HOME SDN. BHD.
Company address:C1-0507 JALAN INDAH 15 TAMAN BUKIT INDAH 79100 ISKANDAR PUTERI JOHOR MALAYSIA
       
Share